hours of tutoring and mentoring since 2004
Act Prep Score Average Increase
College Students Employed by Peer Power
Peer Power has made remarkable progress in helping thousands of high school students improve their grades, graduate, and prepare for college. Peer Power is giving 15,000 students and 99 teachers in 76 schools much more than good grades and college counseling. It's giving them hope.
Most importantly, Peer Power is scalable and replicable. With the commitment of the administration, faculty, and students, the program can be adapted to fit practically any existing public school in communities of any size – as long as funds are available to support it.
Your gift matters.
The average annual cost of successfully running Peer Power in a single school for a full year is $750 per student based on a school of 1000 students. The current annual budget for the program is approaching $3,200,000, which includes payments to tutors and regular third-party evaluations to ensure our program's effectiveness. The program's administrative and overhead costs are entirely covered by our existing contributions. Your support will go where it can make the most difference – directly to our scholars and tutors. New contributions will accelerate the progress we have been making over the past 16 years while improving the academic performance of many more young people in more schools.
If you would like to make a financial contribution, you can donate online or mail your check to:
Peer Power Foundation
Attention: Annual Fund
P.O. Box 111249
Memphis, TN 38111
Kylea Spradley
I am currently a sophomore studying Biomedical Engineering at the University of Memphis. I also work as a success coach for Peer Power at East High School and I absolutely adore my job. The satisfaction from helping and encouraging young scholars is an overwhelmingly positive feeling that fills me with determination to constantly do better not only in my educational life, but in my personal life too. I take great pride walking into East High School knowing that I am not only a resource for the students, but also a mentor. I am that friend to talk to when something is going on, or even the outside opinion on a situation that shines the light onto a new viewpoint.
Peer Power to me is helping motivate students to graduate on time, and with dignity. Peer Power to me means inspiring that scholar to take the ACT again and raise their score, even if it is just by one more point. That one point can be the difference of a 2,000-dollar scholarship for college. Peer Power to me is getting the students excited for the endless possibilities past graduation, whether it be college or joining the work force. Peer Power to me is igniting the fire of determination and motivation under every student, and to welcome them into our world, post high school, with arms wide open, as that shoulder to lean on, as that support system when they need it.
Another reason why I love Peer Power so very much, is that it helps me to revisit old topics that I may have forgotten about when I was in high school. In turn, it benefits me in my college classes. As a biomedical engineering student, I take a ton of math classes. As a math success coach at East High, I get a refresh on topics that I haven't seen in a long while, And if I am able to explain a topic, such as proofs in Geometry or absolute value functions in Algebra 2, to a student who may or may not have seen said topic before and for the students to understand it even just a little better, then I know that I fully understand the topic myself.
The relationships I have built during my time as a success coach at East High School are ones I will remember forever. Whether it be with my team leads, my teacher, students, and even other success coaches, the entirety of it all feels like a second family. I know that I have a support system at Peer Power, one that will always be there to pick me up when I am down, to congratulate me when I succeed, and one I can rely on in the future of my academic career.
Cortney C. Richardson
I am a Native Memphian, East High Graduate, and University of Memphis Alumnus who takes pride in being able to say that I serve where I was raised. As a Peer Power Program Director, I have the opportunity to impact the lives of students who share similar beginnings as I do. These scholars benefit greatly from my experience as a student leader during college, my years of international travel as a gospel singer, and my lifelong dedication to GOD and my local church. I am a walking billboard of what is possible regardless of where you come from. It is from this philosophy, that I work to create, grow, and sustain programs that help hone youth into the people they were created to be. I started with Peer Power at its inception and I am honored to continue through our glory days.
Bachelor of Professional Studies: Organizational Leadership
Minor: Communication/Non-Profit Management
The University of Memphis
Licensed Minister, Emerging Leader, City of Memphis Urban Fellows Intern, U of M Student Ambassador
Peer Power tutor and mentor since 2004
Jennifer Williams
I am a Junior at the University of Memphis, and my majors include criminal justice and social work. I work at East High School as a Success Coach within Peer Power. First and foremost, Peer Power is more than just a job. Peer Power is fellowship and understanding combined with the encouragement and tools needed to be the best that I can be, both in and outside of work. It's taking that encouragement and those tools and empowering high school students to do the same. Peer Power has impacted me as an individual by giving me the opportunity to positively impact the lives of students, teachers, and my peers, as well as giving me life skills that I will utilize throughout my entire life.
Matthew Carney
Matthew Carney is a graduate of the University of Memphis. He holds a degree in Anthropology with a minor in Religious Studies. Matt is a US Army veteran with two tours of duty in Iraq. He knows the value of discipline, hardwork and education.
He began working with Peer Power in 2015 as a Success Coach at Whitehaven High School. Matthew is also a certified instructor at Peer Power ACT University helping students from all over Shelby County prepare for the ACT exam. In 2017, Matthew became the Associate Program Director at Havenview Middle and continues to work in and out of the classroom helping to make the education experience and the future for today's young scholars,,,, ten times better!
Malcom V. Rawls
Peer Power is a phenomenal program that is about bettering the lives of hundreds of students, one day at a time.  The name itself exemplifies how powerful this program is.  Through intensive commitment and dedication, complimented with wise leadership, Peer Power is able to effectively transform the lives of students through education and mentorship.  With the help of Peer Power, these students are able to recognize the unlimited possibilities afforded to them within the community and the world.  Peer Power creates a perpetuating cycle of leadership development that molds the young minds of our future, builds their academic and social skills, and converts them into productive global citizens.  The creed of Peer Power says it all: "mastering reading, writing, and speaking skills lays the foundation for making the future of these young people TEN TIMES BETTER."
Bachelor of Arts: Foreign Languages
Concentration: Spanish
The University of Memphis
Member of Omega Psi Phi Fraternity, Incorporated, Memphis Tiger Football Player
Peer Power Tutor & Mentor since 2004
Reach out, call or join our email list.
Peer Power Foundation
850 Ridge Lake Blvd Suite One, Memphis, TN 38120
(901) 734-4311
[email protected]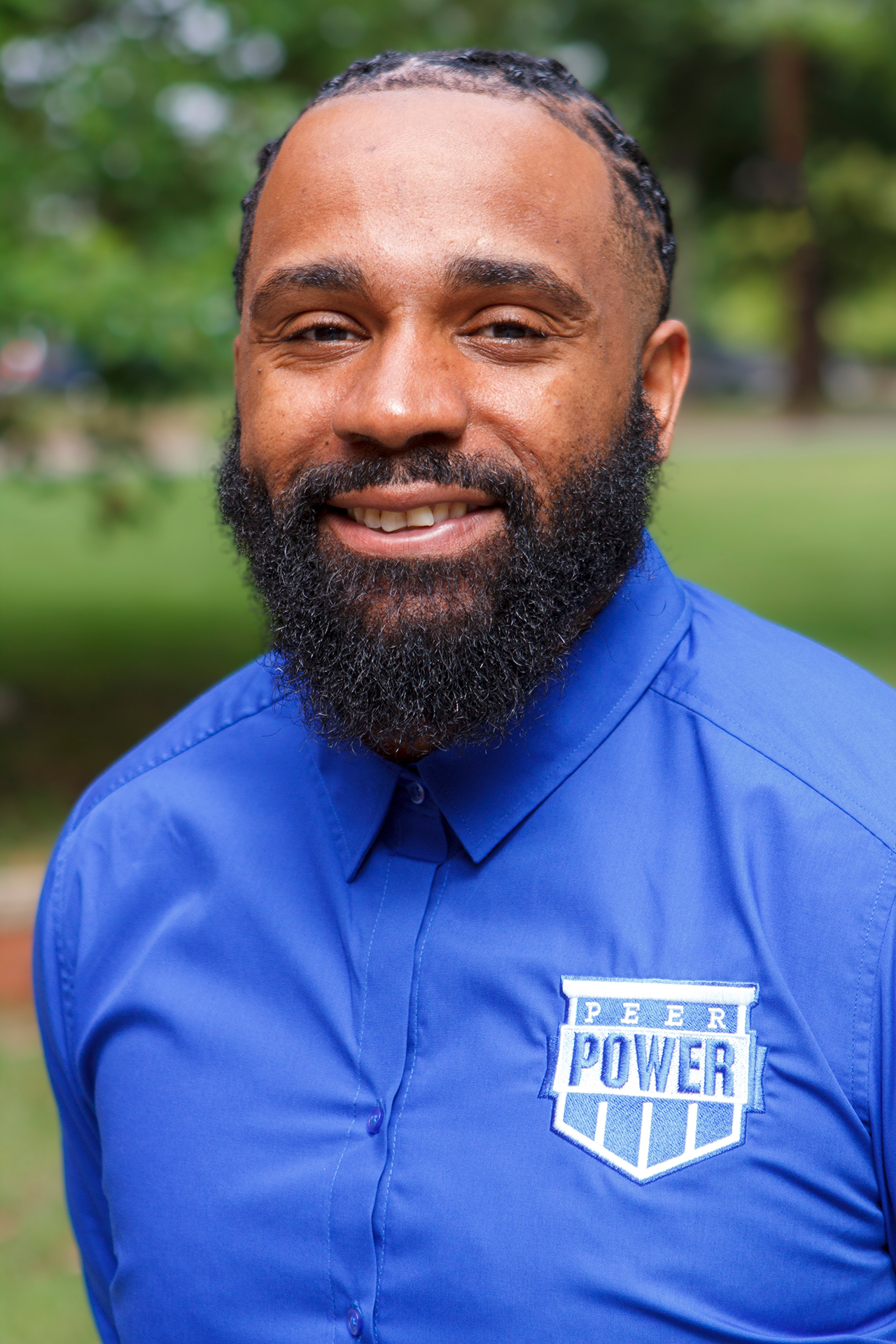 Sign up for text updates. By participating, you agree to the terms & privacy policy for
autodialed campaign & donation messages from Peer Power to the phone number you provide. No consent required to buy. Msg&data rates may apply.